Carpets for Pet Owners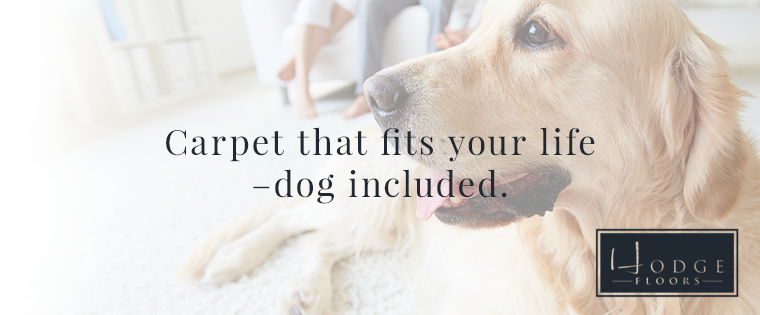 As a homeowner and pet owner, you may think carpets and pets don't mix. But it turns out that you can have the beauty, warmth and durability of carpets while still having easy clean up from your pets' accidents, hair and other stains. It's all available on Shaw Floors' new carpet collection. And Hodge Floors in Spartanburg is your local dealer for Shaw carpets.
Stain and Soil Resistance System, combined with their LifeGuard waterproof backing, provide the ultimate protection against pets (and any other of life's issues that might stain a carpet). The R2X Stain and Soil Repellant protects carpet fibers from dirt and spills. Traditional repellents only protect the surface of carpet, but R2X penetrates the entire carpet fiber, keeping the stain from soaking in and giving you more time to clean up spills. You can watch a short video of the R2X's stain-protection capabilities here.
Additionally, LifeGuard is a waterproof backing on Shaw carpets that provides the ultimate protection from pet stains and any other of life's spills. LifeGuard is 100% waterproof. That's right—absolutely no liquid will soak through the carpet to damage or stain floors. Don't believe it? Watch this video of a swimming pool lined in Shaw carpets with LifeGuard. Not a drop of the pool water soaked through the carpet. That's a waterproof claim you can believe in.
Hodge Floors stands by Shaw's promises of producing carpets that stand up to real life. So if you have pets that have occasional accidents, spill their water bowls or knock over your party appetizers, you can rest assured knowing that your carpets will clean up spotlessly and without damage. And the carpets will still provide the softness, warmth and comfort that pets—and their owners—love.
Want to see the styles and learn more about Shaw carpets? Stop by the Hodge Floors showroom today.