Hodge Floors is Excited to Contribute to a New Landmark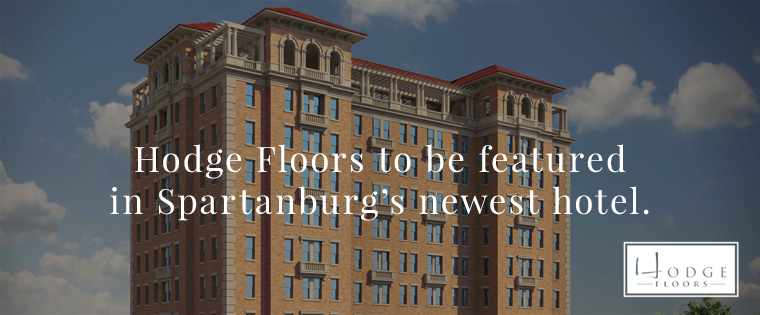 For over 50 years, the Hodge family has owned and run our local business in Spartanburg, South Carolina, the city we call home. From our first storefront as Hodge Dry Goods to today's Hodge Floors, we've proudly been a part of Spartanburg's history, its changes, and its growth. Hodge Floors' products, from carpets to hardwoods to vinyl tiles, have helped build this city, gracing the floors of some of Spartanburg's most iconic buildings.
Hodge Floors is proud to be part of a current project that truly captures Spartanburg's recent renaissance. The new AC Hotel Spartanburg, a Marriott property, is currently under construction at the intersection of West Main Street and South Daniel Morgan Avenue – the western side of downtown known as the Grain District. Spartanburg-based firm OTO Development is constructing the building, and just awarded Hodge Floors the contract to provide carpets and flooring throughout the hotel.
The AC Hotel's 10 stories and roof-top bar will provide soaring views of downtown Spartanburg and all the boutiques, restaurants, office buildings, universities and residential complexes that continue to grow and blossom in our changing town. Hodge Floors is excited to contribute to a new landmark in Sparkle City.
So in fall 2017 when the hotel opens, and you walk up to the roof-top bar to look out over the expansive Spartanburg skyline, make sure you look down, too. You'll see a lot of Spartanburg history and pride in the floors under your feet.
Read more about the AC Hotel's plans and development in the Upstate Business Journal.
Follow the hotel's progress the AC Hotel Spartanburg's Facebook page.