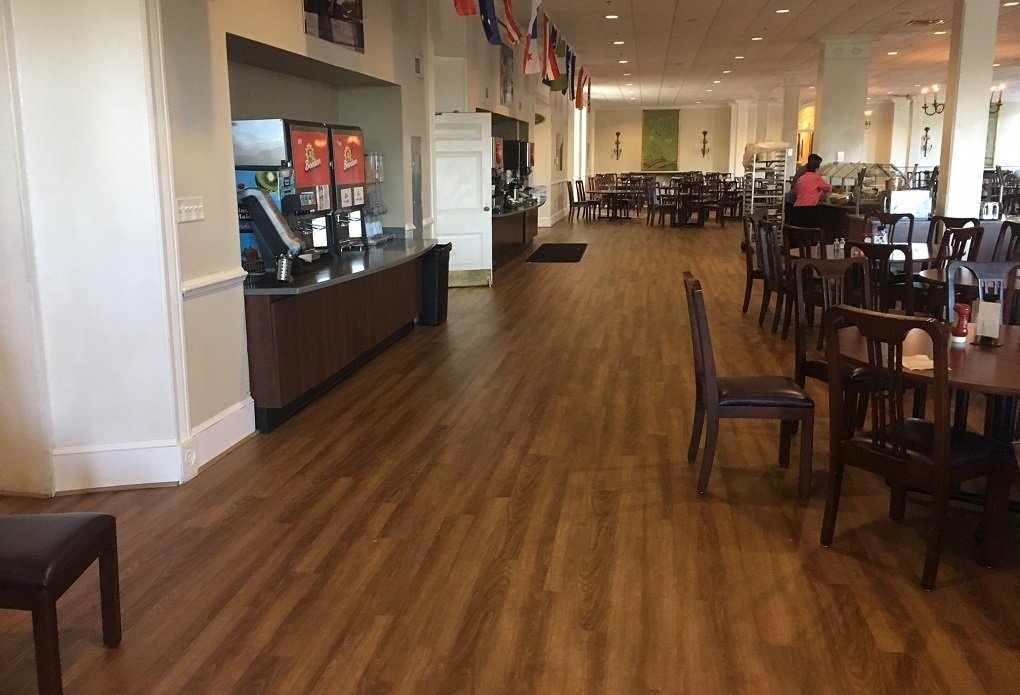 Commercial
Mary Wilson Gee Dining Hall, Converse College
Products Used: Cortec Waterproof Luxury Vinyl Planks by Shaw Industries
Designer: Jamie Hodge of Hodge Floors
Hodge Floors loves a historic project, especially one that's close to our hearts. It was a special opportunity to update the century-old floors of Converse's Mary Wilson Gee Dining Hall. This elegant hall hosts students, professors and staff for their daily meals, as well as wedding receptions and corporate functions for the Spartanburg community.
The Gee Dining Hall's 100-year-old hardwood floors were in poor condition, so we had to take into consideration a few factors. First and foremost, we at Hodge wanted these floors to look and feel natural in this historic space. We also wanted to find a new product could "float" over the existing floors, as well as remain durable and waterproof for the next generations.
We at Hodge knew just the flooring for this project: Cortec Waterproof Luxury Vinyl Planks by Shaw Industries. Crafted with vinyl polymers and a 100% waterproof core with a cushioning cork backing, this unique product provided 8,000 square feet of extra strong, dimensionally stable flooring that will stand up to high-density traffic and any kind of spill.
The result? Updated, elegant floors that offer modern performance for generations to come.