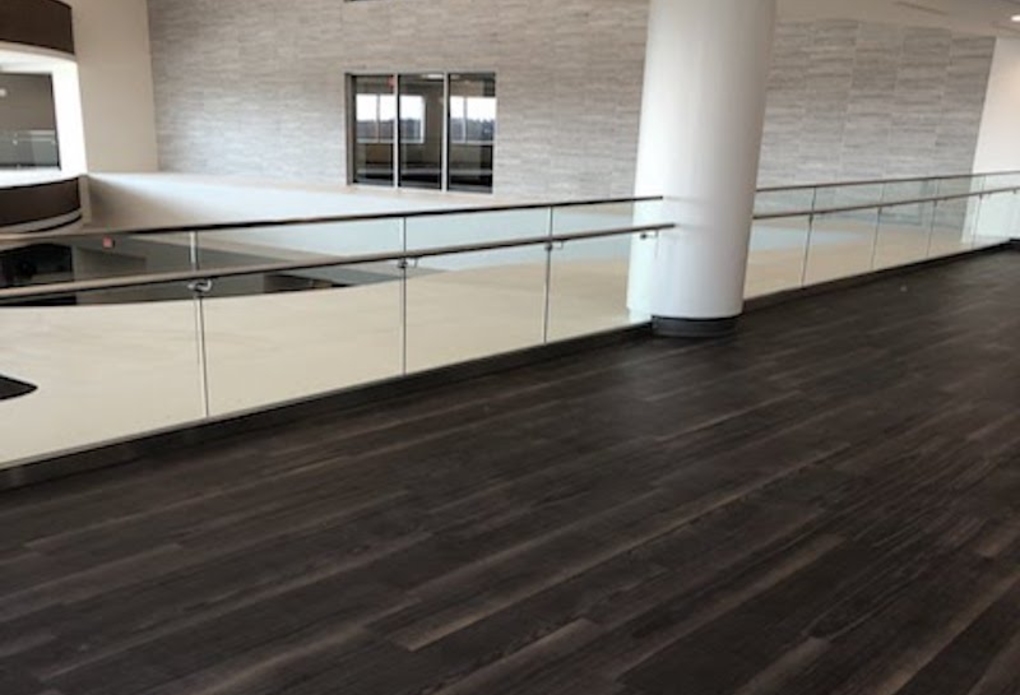 Commercial
SRMC Critical Care Pavilion
Products Used: American Biltrite rubber flooring; plank flooring; wall base; stair treads
Spartanburg Regional Healthcare System is one of our community's greatest assets — a highly regarded healthcare system, a community-focused organization, and our city's largest employer. Needless to say, we immensely value our longstanding relationship with Spartanburg Regional, and every time we are selected to tackle a project for them we feel very fortunate — and excited.
Recently, Hodge Floors completed one of the largest commercial projects we have ever undertaken: the new Critical Care Pavilion at Spartanburg Regional Medical Center. A state-of-the-art facility housing both the Intensive Care and Critical Care units at SRMC, the Critical Care Pavilion is part of a significant master capital plan that is reshaping, updating and expanding the entire SRMC campus. The master capital plan is a massive investment in the health of our community and will further position Spartanburg as an attractive place to live, raise a family, and locate a business. At Hodge Floors, we take every project seriously — and this one was certainly no exception.
The numbers related to this project are impressive. In the new Critical Care Pavilion at SRMC, Hodge Floors installed:
More than 75,000 square feet of rubber flooring
13,000 square feet of luxury plank flooring
16,000 linear feet of wall base
380 rubber stair treads
The American Biltrite rubber flooring is specially designed to be comfortable, slip resistant and low maintenance. An interesting project detail to note is how we coved the flooring up the walls in the patient rooms to create a sterile and easy-to-clean floor. We love working with partners like Spartanburg Regional who care as much about such details as we do!
Indeed, this project was quite an undertaking for our team, and we took pride in completing it on time and on budget. Hodge Floors is proud to have a 40-plus year relationship with Spartanburg Regional, and we are thankful for the opportunity to be a part of this remarkable new addition to our health care system.