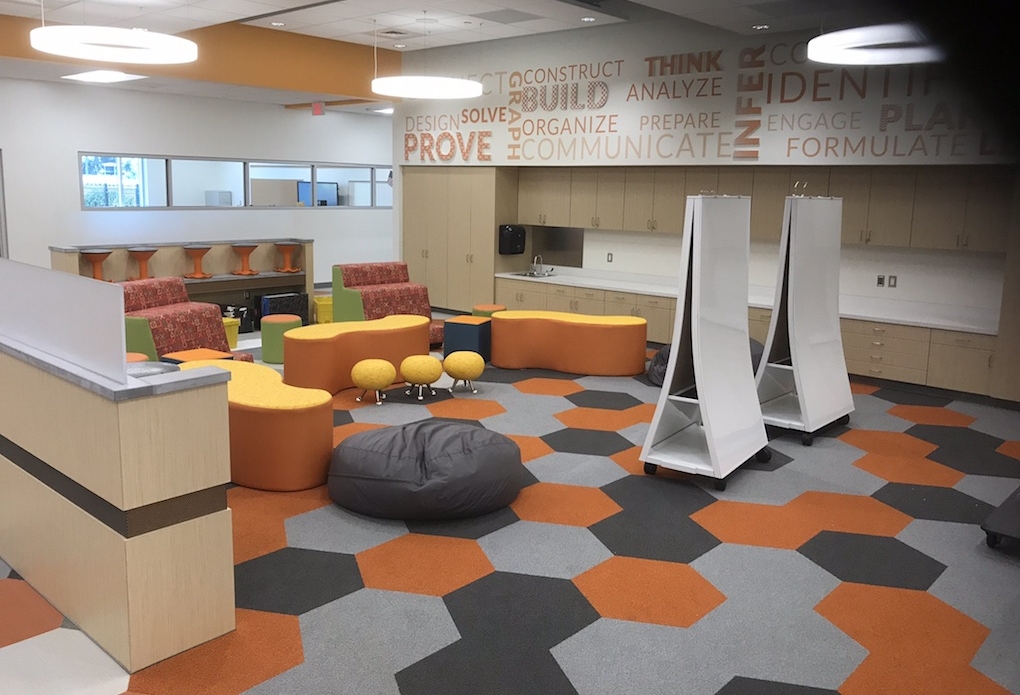 Commercial
Drayton Mills Elementary School
Architect: McMillan Pazdan Smith
Interior Designer: Lynne Wilson, McMillan Pazdan Smith
Contractor: Harper Corporation
Products used: Luxury Vinyl Tile (LVT), custom carpet tiles, athletic flooring
Classrooms: Milliken custom carpet tiles, color coded by grade
Hexagonal LVT and Carpet Tiles: Shaw
Hallway LVT: Armstrong
Faux Plank Flooring, Lobby: Karndean
Multipurpose gym flooring: Woodflex
We love the opportunity to work on projects that serve our community, and the new Drayton Mills Elementary School build was certainly one that is close to our heart. This new, state-of-the-art school is replacing two area elementary schools that were outdated. Designed to better accommodate technology advances and built to Green Globe sustainability standards, this new $36 million school features 21 new classrooms for kindergarten through 5th grade.
Interior designer Lynne Wilson selected flooring that would meet the needs of and be eye-catching to young learners in action. For the lobby, she wanted to offer a comforting and inviting feel as you enter the school. Faux plank flooring by Karndean mimics original mill floors and gave the lobby a warm and welcoming look. For the high-traffic hallways, she chose luxury vinyl tile flooring by Armstrong. One of our favorite areas, playfully called "the tinker space," is designed to allow kids the freedom to experiment and create. For this unique learning environment, Lynne chose hexagonal luxury vinyl and carpet tiles by Shaw in bold colors and patterns. Classrooms feature Milliken custom carpet tiles that are color coded by grade. The carpet tiles feature an integral cushion back, which increases comfort, reduces noise, and can be easily changed when soiled or damaged.
We completed the difficult installation on time and on budget, and we're extremely proud of the finished product.
The Drayton Mills Elementary School project is yet another example of why we at Hodge Floors love our work, our continued partnerships, and our connection to our growing community.