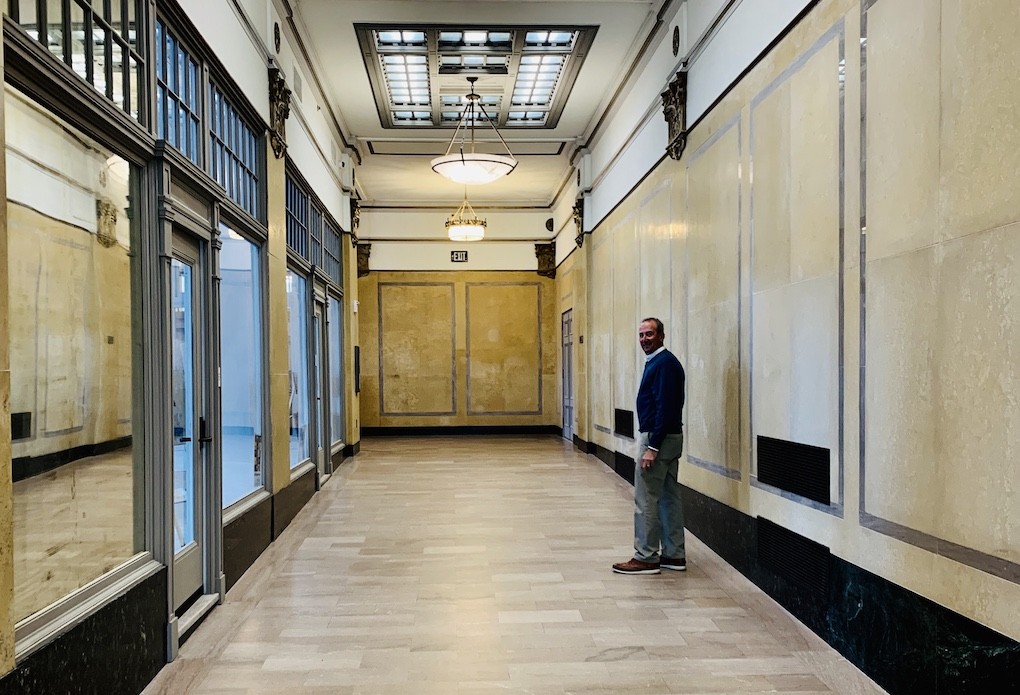 Commercial
The Montgomery Building
Developer: BF Spartanburg
Contractor: Harper General Contractors
Architect: McMillan Pazden Smith Architecture
Interior Designer: Lynne Wilson, McMillan Pazden Smith
Products:
Hallway: faux marble tile by Karndean
Apartments: faux wood plank by Shaw
Basement: carpet planks by Patcraft
The opportunity to take part in the revitalization of Spartanburg's famed Montgomery Building was certainly an exciting event for us at Hodge Floors. Over the last few years, this 1920's era icon has been undergoing an extensive historic renovation, and just a few months ago, the building reopened to an excited downtown community. The new Montgomery Building will include restaurants and retail spaces as well as nine floors of historic apartments.
At Hodge Floors, we know every commercial project has its own unique set of variables to consider. With this project, we wanted to honor the historic nature of the building, while keeping in mind the high traffic and durability needs of certain spaces for the future.
For the studio, one- and two-bedroom apartments, the designer chose faux wood planks by Shaw. With easy, no-wax maintenance, and realistic wood visuals and texture, the plank flooring should give many years of service. For the hallways, the designer chose faux marble black-and-white tiles by Karndean that honor the look and feel of the 1920's, while also standing up to daily hallway foot (and pet) traffic. The basement of the Montgomery Building will house a variety of spaces, including a co-working area for small businesses. Given this, the updated look of the Patcraft carpet planks go great with the "industrial" look of the basement spaces.
We are so pleased with the finished floors of the Montgomery Building. It's just another shining example of why we at Hodge love the work that we get to do every single day. We look forward to seeing how this historic icon continues to infuse new energy and enthusiasm into our downtown Spartanburg community.