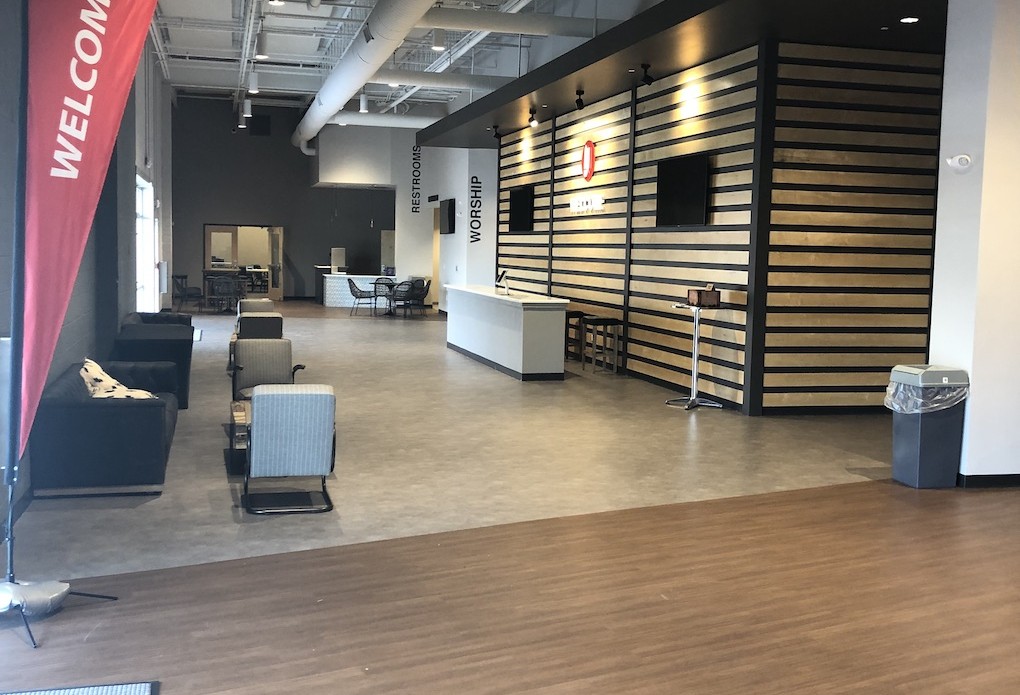 Commercial
Hope Point Church
Contractor: Harper General Contractors
Architect/Designer: Equip Studio
Products: Milliken Carpet Tiles, Shaw Luxury Vinyl Tile, Forbo Linoleum
At Hodge Floors, we love watching Spartanburg grow and thrive. When we received the call to help transform an old car dealership into the new home for Hope Point Church, we were thrilled!
After 15 years renting space at Oakbrook Prep, Hope Point decided to put down roots. There's nothing we love more than being able to provide a colorful, dynamic foundation for a church that has done so much to bless not just our community, but also many around the globe through its vibrant missions program.
For the new space, we wanted the flooring for the 600-seat worship center, lobby and additional spaces to compliment the "woodsy-meets-modern" design aesthetic that the talented Equip Studio had created for this church. To do this, we landed on a mix of Shaw Luxury Vinyl Tiles, Forbo Linoleum and Milliken Carpet Tiles, all in various wood-look or grey-meets-color combinations.
The finished result was a variety of flooring styles that complimented the sleek, upbeat, modern look of Hope Point Church while offering durability and functionality for the thousands of families and visitors that will grace this space for years to come.
Hope Point Church is just another example of why we at Hodge Floors love our work, our continued partnerships, and our connection to this growing and thriving community.