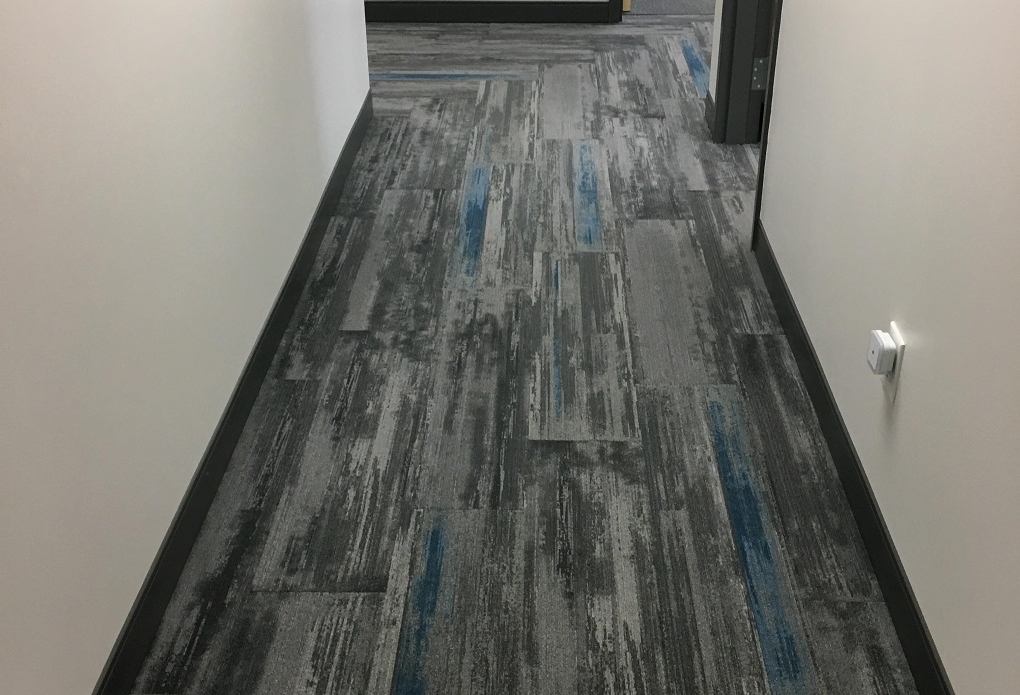 Commercial
Roebuck Buildings
Products Used: Milliken Carpet Planks and Milliken Luxury Vinyl Tile
Designer: Patti Barnes of Hodge Floors
Hodge Floors has partnered with Roebuck Buildings for over 30 years on design-build projects, so it was especially exciting to partner again to help Roebuck modernize and refresh their own office building.
Roebuck Buildings is a general contractor and construction management firm that has been leading projects around Upstate South Carolina for over 70 years. While their projects made be state-of-the-art, their office building was stuck in decor from the 1970s. Patti Barnes from Hodge Floors came in to give the place a complete facelift and set up the office for decades to come.
Patti designed Milliken Carpet Planks in a pattern and color combination (greys and blues) to add a sense of movement and a modern feel to the hallways and individual office spaces. Millken Luxury Vinyl Tiles updated the kitchen and bathrooms in a way that will be long-lasting, easy to maintain, yet have a timeless look. Overall, Roebuck Buildings' own office is now modern and forward-looking, just like this iconic Spartanburg company.