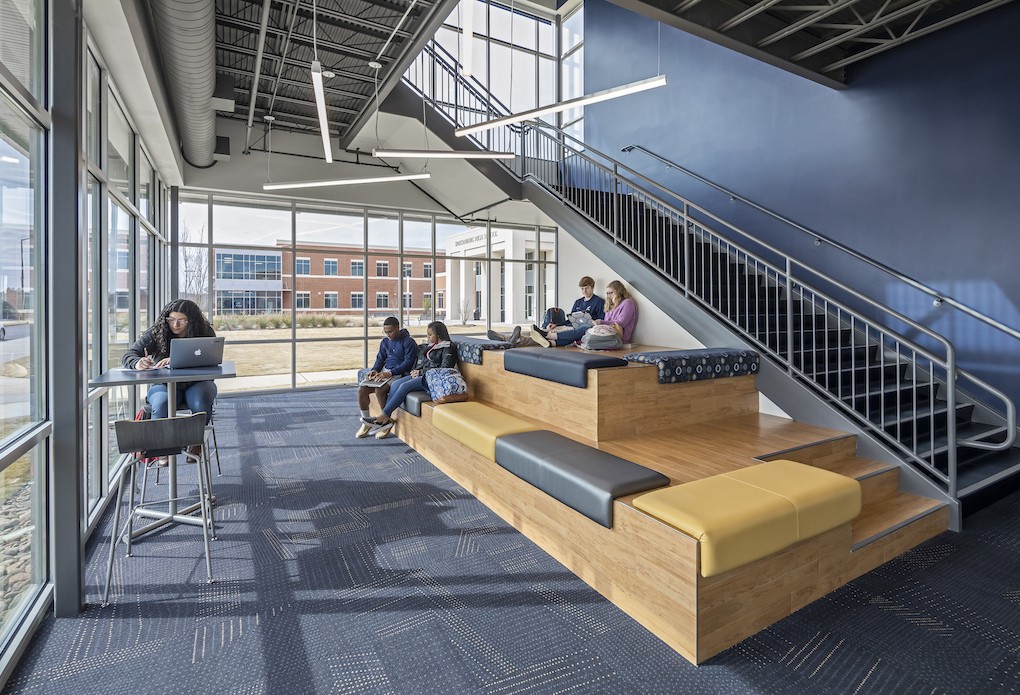 Commercial
Teamwork and Vision for the new Spartanburg High School
Owner: Spartanburg School District 7
Project: Spartanburg High School
Designer: Lynne Wilson, McMillan Pazdan Smith
Products: Milliken custom carpet tiles
The new Spartanburg High School is a dramatic new learning center. Situated on 189 acres of what was previously a golf course, the state-of-the-art school can engage up to 2,500 students. It includes a 1,000-seat Fine Arts Center and a 7,500-seat athletic stadium, plus a range of dynamic learning and gathering spaces.
We spent six months installing over 200,000 sf of custom Milliken carpet tiles, designed in school colors by Lynne Wilson with McMillan Pazdan Smith.
These tiles were designed for heavy use, to mask traffic and spills, and to be easy to change out should they be damaged.
The final phase included working around the clock before and after Christmas to get the school ready for the January dedication ceremony and community open house. The result was an epic, beautiful learning center thanks to the successful partnerships with Milliken, McMillan Pazdan Smith, and School District 7.
Next up for this summer, Hodge Floors will be working on the renovation of the old Spartanburg High School building, which will become a new home for McCracken Middle School. We look forward to the transformation of another school to engage the bright young learners in our community!