It's the kind of project call we love: the opportunity to work on a historic landmark like the Mary Wilson Gee Dining Hall at Converse College. Named after it's Dean of Students who served for 54 years, this elegant dining hall hosts not only students, professors and staff for their daily meals, but it's also home to wedding receptions, corporate functions and galas for our Spartanburg community. This is also a project that is close our hearts, as Hodge Floors has had a long relationship with Converse, both as a vendor and as a supporter. Additionally, Jamie Hodge's wife Laura is a Converse alumna.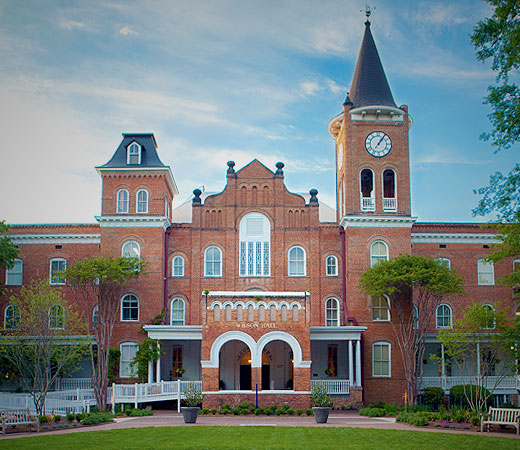 Updating the floors of this historic collegiate landmark would take just the right product. First and foremost, we at Hodge wanted these floors to look and feel natural in this century-old space, with its stunning arched transom windows, grand wooden entry doors and elegant chandeliers. But the existing 100 year old hardwood floors were in poor condition, so we had to find a product that we could "float" over the existing floors. We also wanted the new floors to remain durable and waterproof for the next generation of use.
We knew just the flooring for this project: Cortec Waterproof Luxury Vinyl Planks by Shaw Industries. This unique floor is crafted with vinyl polymers and boasts a 100% waterproof core with a cushioning cork backing. The result? 8,000 square feet of extra strong, dimensionally stable flooring that will stand up to high density traffic and any kind of spill. We are confident that the new Cortec floors will provide decades of service with minimal maintenance.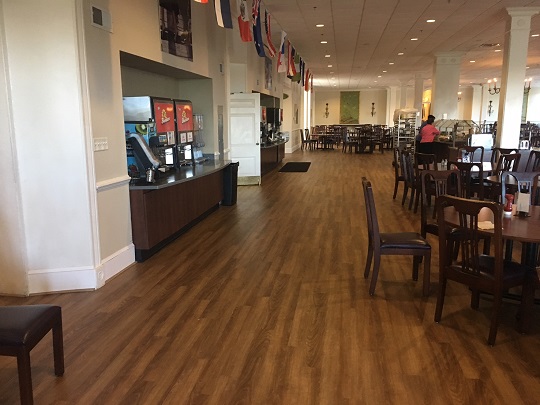 We love the look of the new Gee Dining Hall. Elegant as always, the new flooring nods respectfully to the past with a traditional look, while offering modern performance for the next generation.