Looking back on 55 years of Hodge Floors, we are reflecting on the legacy, values and strong work ethic that built Hodge Floors. Ours is a family business three generations strong.
It started in the 1920's with our grandfather, Charles B. Hodge, selling dry goods from farm to farm around Spartanburg. Grand Daddy Charlie weathered the economic depression of 1929 by saving money under his mattress. Hodge Dry Goods on North Church Street was a downtown fixture until 1955.
Our father, Jim, learned a strong, practical work ethic early and continued to carry on the family business. Daddy bought a plot of land on Asheville Highway and established Hodge Wholesale in 1955. In 1965, he started carrying carpet, and Hodge Carpets was born.
Growing up in the early 1970's, all four of the Hodge children worked summers part-time at Hodge Carpets. In 1977, after Jamie graduated from college, he joined Daddy and the business started to grow quickly. In 1987, our father decided to semi-retire, and Jamie asked Mia to join him in the family business. In 1999, we moved to our present location on the site of the previous Spartanburg Lumber and Millwork Company near downtown. Over the years, in addition to carpet and hard surface commercial and residential flooring, we have added high-end home furnishings and rugs. In 2015, we changed our name to Hodge Floors. The rest, we like to say, is history.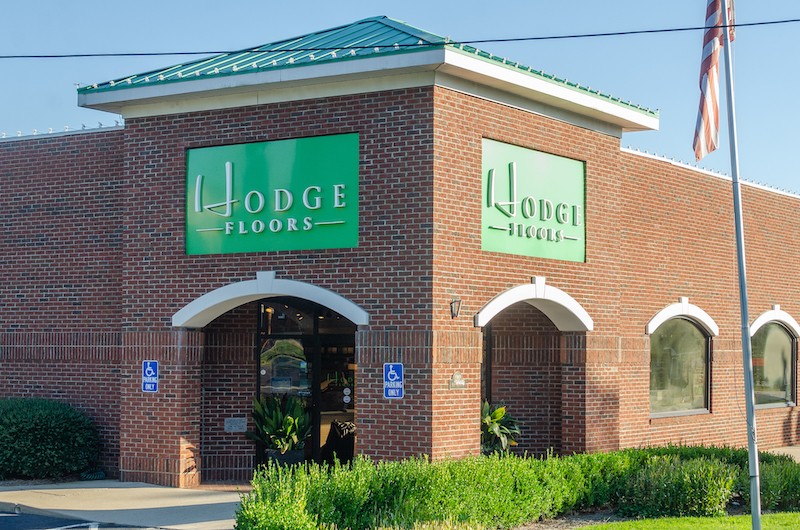 It's a rare thing to have the privilege of being the 3rd generation to carry on a family business. Our family values, principles and standards of excellence are a legacy that we carry with us each and every day. We always say, "when your name is on the store, you care a lot more." We do, and without your customer loyalty, we wouldn't be here!
It's been a gift to serve Spartanburg for the past 55 years. Here's to many more!