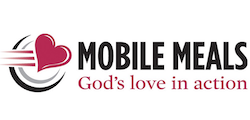 For over 30 years, Hodge Floors has had a tradition of supporting Spartanburg's Mobile Meals program, an organization that delivers hot meals to over 1500 shut-ins and homebound neighbors in our area. These meals not only offer nourishment to those in need, but residents also receive hope and compassion by the Mobile Meals volunteers. Their faith-centered ministry delivers countless blessings to community residents, and we have loved being just one of the hundreds of volunteers and organizations who support this ministry.
"Hodge Floors has run a Mobile Meals route for over 25 years. We take turns among our staff, and we all consider it a very gratifying endeavor. I recently joined the Board of Directors of Mobile Meals, and now truly understand the power of this much needed ministry. Mobile Meals does so much with so little, touches so many needy lives, and accepts no government assistance. Spartanburg is so fortunate to have such a wonderful organization in Mobile Meals, and Hodge Floors is proud to play a small role in it's success."

-Jamie Hodge
Over the years, we have also loved supporting Mobile Meals community events, including the Hub City Hog Fest, the Ben Wright International Challenge Cup Golf Tournament, and the BMW Charity Pro/AM Golf Tournament.
Coming soon this March, Mobile Meals is hosting another event that we're looking forward to – the 16th Annual Land Cruise! This year's "trip" is to Scotland and includes an evening of live music, food and a silent auction, plus the chance to travel, golf and relax in beautiful Scotland for a week! Learn more about this exciting cultural event at mobile-meals.org.
Please consider donating some time to become a volunteer with Mobile Meals. You can also show your support by attending one of Spartanburg's exciting events that give back to this incredibly important program for our community.
From our Hodge Family to yours, thank you for helping to make Spartanburg such a warm and inviting community to live, give and serve.