Mobile Meals is the ultimate service organization with heart.
Way back in 1988, we began as a company delivering meals on Tuesdays. It's a simple fulfilling habit that grounds our company culture as much as it reminds us that our community outreach is vital. Giving time is as needy as ever. Due to the pandemic, many routes have needs for drivers, so please consider volunteering today. You can also contribute and have some fun and buy tickets to the 16th annual Mobile Meals "Land Cruise!" This time they're "setting sail" to beautiful Scotland (all from the comfort of Spartanburg Memorial Auditorium). This fun event takes place on Friday, March 11 from 7-11pm. For tickets and information visit the Mobile Meals website.
Schools ARE the heart of our hometown.
From colleges to K-12 schools, facility updates to those spaces engage the next generation of Spartanburg leaders. Check out recent flooring jobs at Clifdale Middle School, The Forrester Center, The Franklin School, Spartanburg High School, and Drayton Elementary School.
When improvements in our city change lives, they really do have heart.
Have you walked down the Rail Trail in Spartanburg lately?
The Mary Black Rail Trail runs right past Hodge Floors. Daily, we witness the difference this space makes for our community, in the heart of the community. We marvel at the numbers of families on bikes or friends catching up and how pleased they all are to get outside and stay active. And it's only going to get better! If you haven't heard by now, The Daniel Morgan Trail System (The Dan) has recently been awarded a $23.8 million federal grant from the Department of Transportation to expand and improve our trail system.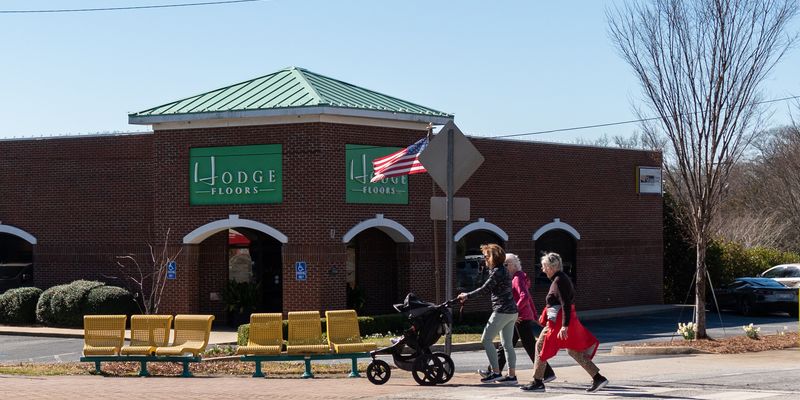 And the growth and development doesn't stop there! Have you heard about Fretwell? This commercial development is only a few yards from our location on the Mary Black Rail Trail and will feature a mixed-use development, as well as an outdoor live music space.
So much heart. So much on the horizon! Drop by Hodge Floors anytime, whether you are on the trail or just to say hi! Until then, happy early spring!